Get your vehicle shipped from Point A to Point B with ZERO worries about:
High costs and hidden fees

Sun drying and sea water

Long transit time

Unreliable deliveries

Damage in transport 

Complicated processes
Looking for a reliable company
to ship your vehicle?
Contact our logistics specialists
at Transvio for a FREE quote!
Transvio Vehicle Shipping Services
Roll-on/Roll-off (RORO or ro-ro) Shipping
Vessels designed to carry wheeled cargo such as automobiles, trucks, semi-trailer trucks, trailers or railroad cars that are driven on and off the ship on their own wheels. This is in contrast to lo-lo (lift-on/lift-off) vessels which use a crane to load and unload cargo.
RORO vessels have built-in ramps which allow the cargo to be efficiently "rolled on" and "rolled off" the vessel when in port. While smaller ferries that operate across rivers and other short distances often have built-in ramps, the term RORO is generally reserved for larger ocean-going vessels. The ramps and doors may be stern-only, or bow and stern for quick loading.
Containerized Shipping
Container shipping for transporting your vehicle provides the safest means of transportation to your destination within West and East Malaysia. Your vehicle is loaded into the shipping container at one of our warehouses located throughout Port Klang area. Once your vehicle has been loaded into the shipping container, wooden braces are placed around each of the tires and nailed to the floor of the container.
Nylon straps are then used to tie your vehicle down and they are secured to the walls of the shipping container. Before the container is returned to the port of loading for export, a numbered seal is inserted through the doors. This seal number will be shown on all export documents relating to the shipment of your vehicle overseas.
Barge and Tug Boat Shipping
A tugboat (tug) is a boat that maneuvers vessels by pushing or towing them. Tugs move vessels that either should not move themselves, such as ships in a crowded harbor or a narrow canal, or those that cannot move by themselves, such as barges (flat-bottomed ship), disabled ships, log rafts, or oil platforms. It can carry heavy lifting machines, vehicles, bulk-size cargoes and so on within Malaysia and Intra-Asia countries.
Coverage Area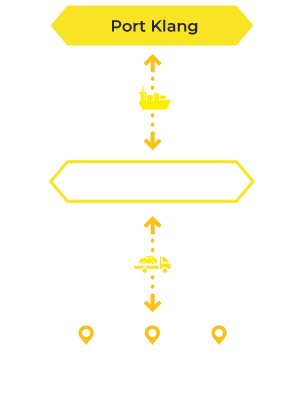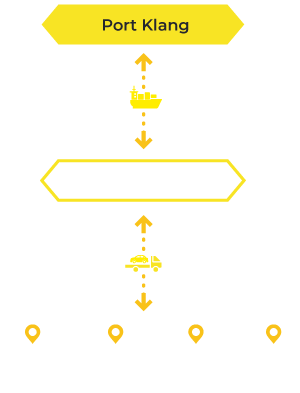 What Documents are Needed

Self-Owned
Car registration card rant (front & back)

Bank release letter (if still under loan)

Owner's IC (front & back) – for Malaysian

Owner's passport, Malaysian Visa or Temporary visa – for Foreigner

Company-Owned
Car registration card (front & back)

Bank release letter (if still under loan)

Company Form 9, 29 & 24  – for Sdn Bhd

SSM copy / Trading license – for Enterprise

Director IC copy
Why Choose Transvio

Safe & Reliable Delivery
Door-to-Door Service

Marine Insurance (Optional)

Over 8 Years of Experience

Custom Clearance Included

Lowest Rates in Town

Accept Any Types of Heavy Vehicles
Let Transvio help you get your vehicle
wherever you need it to be!
Reach out to our Logistics Specialists and we will get back to you soon.
LOCATION

Transvio Logistics Sdn. Bhd.
(1169064-K)
No. 22-A, First Floor,
Jalan Bayu Tinggi 5,
Taman Bayu Tinggi, 41200 Klang
Selangor D.E Malaysia
OPERATING HOUR

Monday to Friday | 09:00 – 17:00
Saturday | 09:00 – 13:00
Sunday & Public Holiday | Closed
CONTACT

+603-3885 2065

+603-3885 2065

keretamover@gmail.com
auto@transvio.my
info@transvio.my